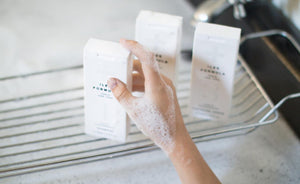 The difference between Iles Formula and other brands is the instant repair we deliver without coating the hair with any substances that over time build up and create a counter effect of breakage. Iles Formula delivers phenomenal repair results immediately. Please take a moment to read our reviews on our shop pages!
All our formulas are made in the USA.
No. The results from the IIes Formula 3 Step System are phenomenal in transforming all hair, even damaged and dry hair to a sumptuous silk texture. The Finishing Serum is the best styling formula. Not only does it protect your hair against heat, UV and humidity, but it also delivers a spectacular luster and a soft, organic memory to the hair so you will not need any other product.
Yes. We have many male clients using Iles Formula. Our products have a perfect pH therefore it is excellent for scalp health, hair repair and continued hair nurture for anyone. The most popular formulas amongst our male customers are the Shampoo + Conditioner, or the Shampoo + Finishing Serum.
Iles Formula is safe to use on all hair including young children, the formulas contain no nasties. Knots and tangles will just disappear. Iles Formula will nourish and protect your child's delicate hair in the same way as it does for adults. Our shampoo is often used to help treat cradle cap too.
Absolutely, they are totally safe for use during pregnancy and on your future baby too! Our formulas are clean; free from sulfates, parabens, silicones and phthalates.
The Iles Formula Scalp + Hair Rejuvenating Booster is also botanically derived + drug free so safe for use during pregnancy.
Yes, this booster is a botanically derived, drug free formula. The key ingredient is Procapil™️ consisting of a blend derived from citrus fruits + olive trees alongside wasabi + apple + tomato extracts.
The Signature Collection presents the ultimate Iles Formula experience, our award-winning Shampoo + Conditioner + Finishing Serum + Conditioner Distribution Comb in a beautiful presentation box. It's perfect as a first time purchase, or gift. The 3 Step Replenishment System has the same contents, less the Conditioner Distribution Comb and is designed for our loyal, repeat customers in a simpler box.
Both are serums that protect the hair against heated tools and have UV filters to protect against color fade and humidity without ever weighing the hair down. The Finishing Serum delivers a lighter silky effect, excellent if blow dried into fine, thin hair as it will make the hair feel and look thicker. The Curl Revive delivers a weightier, cashmere effect to the hair so is ideal for all curl, wave and textured hair. It also works very well for thick, coarse Indian, Asian and chemically straightened hair.
One can also cocktail these serums. For example, someone with extensions would use the Finishing Serum on the their thin, fine, natural hair and the Curl Revive on their extensions.
These 2 formulas carry out completely different tasks. The Iles Formula Hair Mask adds extra moisture to thirsty strands and nourishes the scalp. The Iles Formula Conditioner repairs hair by closing down the outer cuticle.
The Conditioner should always be used after our Hair Mask treatment to lock in the extra nourishment it delivers.
We find Iles Formula works best without other styling products such as mousse or hairspray as they can remove the lustrous, sumptuous results Iles Formula delivers. However, you can still use your regular styling tools. The Iles Formula Finishing Serum protects your hair against heated tools + UV + color fade + humidity. It also delivers a spectacular luster and a soft, organic memory to the hair.
All Iles Formula products work very well in hard water areas. Add more water not more product to wake up the root extracts which replace the sulfates. Water and friction deliver an abundance of lather. Rinse well. Water is the key in hard water areas.
This depends on how long your hair is. Generally speaking, if you have long hair and shampoo twice a week, a 200ml bottle will last around 2 months. A little more on shorter hair.
Our collection is available in selected leading salons and stores internationally. For the full range, please visit our Store Locator section.
The Iles Formula storefront is the only authorized seller of our products on Amazon.
We are not able to guarantee the authenticity of any Iles Formula products purchased from unauthorized sellers which are neither eligible for returns, nor replacements.
We do not offer single samples however we've designed the Discovery + Travel Kit for this purpose, as an introductory purchase at an entry price point, complete with 4 sets of sachets of our award-winning Shampoo + Conditioner + Finishing Serum + Conditioner Distribution Comb.
We suggest a gentle hand or machine cycle with a touch of fabric conditioner to maintain the cashmere texture of the Turban Towel.
The Iles Formula Turban Towel is made from microfiber. We opted for this particular toweling for its fast absorbency of water. We tested it beside more sophisticated technical fabrics but found those towels scratched the hair surface of already damaged hair. Our microfiber has a very soft interior that almost feels like cashmere, it is very gentle on the hair shaft. It also has a button loop system so stays in place which is comfortable to wear. We have also enlarged the turban length to accommodate easily to those with extensions. This makes no difference to those with short hair, they can just create a few more turns in the twist.
Iles Formula is nourishment for your hair so using too much is not a problem. However, in order not to waste these precious formulas, we recommend for short hair the equivalent of a size of a quarter. Double that amount for longer hair.
The Shampoo is sulfate free + silicone free + paraben free. The secret to our Shampoo is to use more water, not more product to activate the root juices then start massaging into the hair immediately to create an abundance of lather that will help distribute all the nutrients to the hair.
Yes. Our shampoo is sulfate free however it delivers an abundance of lather due to a root extract we use instead of sulfates. The secret to our shampoo is to add more water while massaging, not more product. The root extract buffs over damaged porosity bars on the hair shaft (particularly common in colored hair) so be sure to distribute the shampoo mousse all the way through to ends of the hair.
Normally this should not create a problem. However, as there are healing qualities in our Shampoo, please try the first shampoo without the pigment additive and add it to the second shampoo. Preferably use a brand with pure pigments that won't contradict the nurture our Shampoo is delivering to your hair.
The Conditioner is our jewel and INSTANTLY repairs all hair texture to sumptuous, soft silk. Apply 1 inch from roots then comb the conditioner through to ensure even distribution. If you don't have a wide tooth comb please use a wet brush. Our conditioner heals hair by closing the hair cuticles tightly without ever coating it like traditional conditioners, nor leaving harmful residues like protein or keratin that will overtime build up and cause breakage. Its performance is phenomenal. Reviews are our testimony.
The Iles Formula Finishing Serum is the hair's best protector against heated tools + UV + color fade + humidity, without ever weighing the hair down. It can be used on both wet hair before drying, and on dry hair too to tame down any frizz. It is exceptional when heat activated, e.g. when blow-dried into the hair. It works like magic, making thin hair feel organically thicker, and calms down thick, bushy hair. Please be sure to apply to each section about 1 inch from roots to ends.
The Iles Formula Scalp + Hair Rejuvenating Booster is a treatment. In order to see results, the treatment must be followed daily for a minimum of 3 months. Thereafter, once the desired result is achieved, use 2-3 times a week to maintain.
For optimal results, we recommend using the Iles Formula Scalp + Hair Rejuvenating Booster after the Iles Formula Shampoo + Conditioner.

The Iles Formula Scalp + Rejuvenating Booster specifically targets Hair Loss and promotes new Hair Growth.
The Iles Formula Shampoo + Conditioner stops Hair Breakage with no harmful residue.
This will allow the Iles Formula Scalp + Hair Rejuvenating Booster to encourage necessary hair growth without hair breakage impeding the process.
No. Our Booster is fast absorbing and entirely residue free. It has the consistency of water and leaves no greasy or flakey residue so is totally safe for use by those with darker hair too.
The Iles Formula Hair Mask is a sumptuous cocktail of sustainably sourced, raw, virgin ingredients and vitamins infused to deliver excellent scalp care alongside nurtured + strengthened strands without ever weighing the hair down.

Apply generously from scalp to ends. Allow to penetrate for 5 to 20 minutes then rinse.

Best used between the Iles Formula Shampoo (1) + Iles Formula Conditioner (2).

・Use weekly or monthly depending on your hair's needs.
The Iles Formula Hair Mask should be used according to your hair's needs. Generally, we would recommend once a month for thin, fine hair. Whereas thick, coarse hair will benefit from the Hair Mask once a week or every two weeks.
The most important part of the shower process with curls is not to disrupt the curl too much. Once you've completed the Shampoo step, apply the Conditioner and comb the curls through to remove any tangles and knots in the parting you wish as this will be the last chance you have to comb your curls until dry. Stand under the shower and let the water roll through the hair in a downward direction to rinse the Conditioner so as not to add friction and avoid frizz. Apply our Turban Towel to gently squeeze out water without friction. Remove the towel, spray Curl Revive liberally through the hair and gently work it through the curls with your fingers. Let it dry naturally and do not touch until dry. Then use a wide tooth comb or fingers to manipulate the hair afterwards. Your curls will be perfectly formed and phenomenal.
The formulas in both the Curl Revive 200ml with spray and Curl Revive 500ml with pump are exactly the same.
The Curl Revive 500ml is a larger vessel hence difficult to manoeuvre with a spray. It is also designed for our most loyal customers whose thicker hair texture calls for a larger usage of the formula hence they often prefer to apply it by hand.
Hair - Apply 2-3 pumps to very wet hair and start massaging while adding more water to activate the mousse. Add more water not more product.

Body - To optimize the cleansing experience with an abundance of lather, use with our specially curated antioxidant body sponge.

Sponge – soak for 5 to 10 minutes in warm water before first use. 
As often as you wish. Our formulas are high performance using gentle ingredients so will never dry the hair or scalp.
Our products are perfect for ALL hair types.
Yes. Iles Formula will never weigh your hair down. In fact, by using our 3 award winning formulas, the Shampoo + Conditioner + Finishing Serum, fine hair will gain body and appear thicker and fuller. The results are immediate and right after the first treatment your hair will not only look good but also feel phenomenal. The Iles Formula Hair Mask has also been formulated not to weigh the hair down. Its performance is to nurture and strengthen hair and scalp without leaving any residue so it's perfect for even the finest of hair.
Women and men suffering from hair loss related to the following conditions will all benefit from our formula:
- Hormonal changes (including post partum + pre/post/during menopause)
- Covid
- Age
- Stress
- Early signs of alopecia
- Men starting to recede due to DHT (DHT is a chemical known as dihydrotestosterone which breaks apart testosterone which causes individual hair follicles to shrink. Over time, the hair follicles lose their ability to regenerate new hair)
- Medication
- Fungal infections of the scalp (can be connected to hair loss, including skin conditions such as psoriasis and seborrheic dermatitis, and autoimmune conditions like lupus)
There is often confusion between Hair Loss and Hair Breakage as they both give the impression of a reduction in hair density. They are in fact two separate issues. Unfortunately some do suffer from both.

The Iles Formula Scalp + Rejuvenating Booster specifically targets Hair Loss and promotes new Hair Growth.
The Iles Formula Shampoo + Conditioner stops Hair Breakage with no harmful residue.
Someone with hair follicles which have been dormant or inactive for several years will most likely not see a good result.
The best results will be achieved when there is still activity in the root, no matter how little. Even with little activity, the Iles Formula Scalp + Hair Rejuvenating Booster will encourage blood circulation around the root area and strengthen the hair follicle to encourage growth and stronger hair.
Yes. Our signature 3 steps work as perfectly on curly, colored hair as they do on straight hair. Additionally, following 3 years of R+D, the Iles Formula Curl Revive and Curl Revive Pack were specifically formulated for customers with any type of textured hair.
Yes. Greasy hair sufferers can benefit from our Shampoo which is sulfate free yet still lathers very well. Your hair will feel thoroughly cleansed and refreshed after use! The secret to our Shampoo is to add more water, not more product and to massage it into the hair immediately for the abundance of lather which will give the hair a thorough cleanse and lift the excess sebum from the scalp. Customer reviews will confirm that consumers who normally have to shampoo their hair every day because of excess sebum can go 2-3 days longer before the next shampoo when using Iles Formula.
Yes, our formulas were born to nurture and repair ALL hair types. The more damaged the more phenomenal the performance! The root extract in our Shampoo buffs over damaged porosity bars on the hair shaft which are particularly common in colored hair. The Iles Formula Conditioner is essential in repairing any damage as it locks the outer hair shaft and instantly detangles hair. The Iles Formula Finishing Serum is protection for your hair and contains UV + color fade filters to maintain your color while leaving hair vibrant and healthy.
Our shampoo is excellent on grey hair. The Shampoo contains a root extract in place of sulfates which actually removes the yellow tinges that can often appear in grey hair through pollution, city water and sometimes even medication.
Yes. Iles Formula is phenomenal on all hair extensions. We have some of the best extension salons using and selling Iles Formula as home care for their clients. As your extensions age, they will begin to feel rough and dry. Iles Formula transforms this hair to sumptuous silk. The best and most complete nurture system is the Signature Collection. Additionally, rest assured our Scalp + Hair Rejuvenating Booster will not interfere with any extension method!
Most certainly, yes. Iles Formula is one of the most recommended products to use after ALL chemical procedures including Brazilian blowouts. The best and most complete nurture system is the Signature Collection.
Yes. All Iles Formula products are keratin safe. In fact, as keratin treatments disrupt the hair shaft, Iles Formula is the perfect home care after such a treatment to nurture, care and repair the hair shaft without coating or weighing the hair down.
Yes, absolutely! The formulas are designed to work in perfect harmony with each other.
For an indulgent hair treatment, we recommend the Scalp + Body Exfoliant followed by the Shampoo, Hair Mask, then Conditioner.
For the body, the Scalp + Body Exfoliant, followed by Hair + Body Cleanse, then Intensive Hair + Body Balm.
Iles Formula Haircare is formulated with a high percentage of skincare-grade ingredients. Therefore, for many years, our customers have been enjoying the calming benefits of the Iles Formula Shampoo on their scalp and some clients with sensitive and problematic skin have even been using our Shampoo as a body cleanse too.
We are now delighted to extend the luxurious efficacy of Iles Formula to a wider selection of products that are formulated for the Hair, Body, or both.
Yes, they are the perfect complement to each other. The Scalp + Body Exfoliant will deliver a fresh, clean scalp for optimized absorption of the Scalp + Hair Rejuvenating Booster.
No, our Exfoliant will not loosen extensions beads. In fact, it's excellent for use by extension wearers to remove the build up of dead cells that can often beome trapped on the scalp.
The Scalp + Body Exfoliant is very gentle on the scalp. In case of bleach, provided the scalp is not broken or sore, we recommend to leave it a week after the treatment before applying the Exfoliant to the scalp.
No, a gel is a product that freezes the hair's texture and dries it with a crackle and crunch. The Iles Formula Intensive Hair + Body Balm delivers a soft, lustrous texture to the hair, with an organic memory that will hold any movement without freeze but with suppleness.
Yes all our Iles Formula products are silicon free + paraben free + sulfate free. Haute performance with raw ingredients and technology in the highest form, absolutely no nasties.
Shampoo - pH 5.50 - 6.5
Conditioner - pH 4.0 - 5.0
Finishing Serum - pH 4.0 - 5.0
Our formulas are made using raw virgin ingredients so depending on the harvest, the consistency can differ slightly however the performance is always tested and remains unchanged.
Certain environmental factors can also affect the viscosity of the Conditioner and Hair Mask in particular such as hot climate or storing it near heat, however please rest assured this will never affect the performance of the formulas.
Biotinoyl Tripeptide-1, known as Procapil™️ is a key ingredient of the Iles Formula Scalp + Hair Rejuvenating Booster, alongside the Wasabi + Tomato + Apple Extract.
Procapil™️ is a powerful, botanically derived, breakthrough blend that promotes hair growth naturally. It is drug free. It ignites growth in the root area, strengthens hair follicles and reduces hair loss + hair breakage.
Procapil™️ encourages increased blood flow to your scalp and activates recently dormant follicles and root area into new growth. The correct use of Procapil™️ will result in new hair growth and strengthened hair.
Procapil™️ is made from natural, botanical ingredients. Though these ingredients have complex names, they are derived from nature.
The Procapil blend contains. 
Biotinyl-GHK - Biotin, a hair vitamin.
Apigenin - a flavonoid sourced from citrus plants.
Oleanolic Acid - a chemical compound derived from olive trees.
It is something we are researching at present, however as our formulas are made using so many raw virgin ingredients, the formulas would smell like food without any fragrance hence we have opted for an allergen-free fragrance, our bespoke White Tea Flower scent.
Iles Formula only uses Polyquaternium-10 and 11 which is a cellulose polymer. There is no evidence by the cosmetic regulators to show that it is unsafe for use. *It is NOT Quaternium-15 which has been banned.
There are over 15 key ingredients sourced from around the world. Silk from Japan, macadamia oil from Australia, and several root juices, oils and butters from the Amazon. These special ingredients mixed with high technology transform your hair to give it the Iles Formula Signature Spun Silk texture.
Please read more about our key ingredients: https://ilesformula.com/pages/ingredients
Yes, we are completely clean and green. We are sulfate free + paraben free + silicon free + phthalate free + gluten free + cruelty free. We have been accredited as one of Positive Luxury's 'Brands To Trust'. We have undergone rigorous checks to achieve this accreditation as it's a matter close to our hearts.
Iles Formula does not test on animals. We have been accredited with the Leaping Bunny certification, meeting requirements beyond current laws to provide the best assurance that our formulas are completely free of animal testing at all stages of product development and distribution.
Our packaging is currently 100% recyclable, however not made from recycled plastic. The reason being that recycled plastic cannot be recycled again so there is no perfect solution available as yet. However we are committed to minimizing our impact on the planet and will continue to improve our sustainability standards as technologies evolve.
Yes! We offer a subscription service on our most popular products which our customers enjoy replenishing. Options for order frequencies are 4, 6, 8, 10 or 12 weeks.
Never being without your favorite formulas! We also offer complimentary shipping on all our subscription orders, regardless of their value.
We've kept it very simple. Changes and cancellations can be made at any point after a 3 order minimum. 
All customers who have an existing Iles Formula online account either before or after August 15th 2022 are automatically enrolled in the Iles Formula Rewards Program with the customer's consent. All other customers who do not have an online account, including those may have previously purchased on www.ilesformula.com or have subscriptions in place, will be requested to complete the enrollment process here.
The program rewards purchases made per membership year, ie. members who join on June 30th will maintain their reward level until June 29th the following year. However, any unused reward credits will be carried over and remain valid for a period of 2 years from the date of last activity.
Your account will remain active at the Silver Level.
Yes, you may accrue and redeem your loyalty credits for a period of 2 years from the date of last activity after which they will expire.
Yes, based on the total $ value of your Loyalty Rewards orders, our shipping fees will apply to these orders. Incremental shipping benefits are offered at each reward level. Please note, shipping fees do not count towards Loyalty Rewards calculations.
The menu of items is available to view on the Iles Formula website. Please note that Iles Formula reserves the right to modify this program at any time.
Any changes to Rewards Levels will be reflected immediately following a qualifying purchase made on ilesformula.com.
Bonus points from referring a friend are only applied to your account once the recipient has made a purchase.
We are delighted to offer points for reviews per item purchased on our website.
We welcome fair and honest reviews so points will be applied on all reviews. Please note, points will be awarded for review per product
ordered only.
Yes. Loyalty redemption items are only redeemable with credits available in full. We are unable to support part credit, part payment redemptions.
You may accrue any unused credits for future redemption. Loyalty credits remain valid for a period of 2 years from the date of last activity.
No, shipping and state sales tax charges are excluded from Reward Level calculations. Only product purchases count towards rewards
calculations.
We offer 2 delivery options within the US. Standard Delivery takes 3-7 business days and we also offer a Next Day Delivery option as well.
Yes! We offer gift wrapping on our most popular gifting items; The Signature Collection + Nurture Pack + Curl Pack + Extension Pack.
The boxes are wrapped in a white sleeve and delicate 'real touch' white flower placed on top.