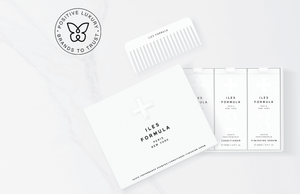 DISCOVER
THE SIGNATURE COLLECTION
The Iles Formula Signature Collection is the raison d'être of our brand.
It is the reason our brand was born.
Our signature Shampoo + Conditioner + Finishing
Serum + Conditioning Distribution Comb are beautifully boxed.
This box presents the perfect introduction for a first time customer
or as a gift for someone special that deserves the best in haircare.

On a professional set, the hair stylist has only one chance to get it right.
ILES FORMULA was born out of the need for a high-performance
professional product that would work fast on any hair texture
and deliver perfectly nurtured results every time.
Celebrity clients and industry experts instantly recognized that
Iles Formula was the product they were long waiting for.
All of our formulas are free from harsh detergents, silicon, parabens and sulphates.
100% Repaired
75% reduction in Frizz
90% reduction on split ends
25% thicker, in feel, to thin, fine hair
85% smoother, in thick, coarse hair
No retouching, no extensions, just one application of the Iles Formula 3 Step System. Treatment took 45 min from beginning to finish delivering this sumptuous result.
THE 3 STEP REPLENISHMENT SYSTEM, CONTAINING OUR 3 SIGNATURE AWARD WINNING FORMULAS, IS DESIGNED FOR OUR RETURNING CUSTOMER.
Step .1
The Iles Formula Shampoo
- Antioxidant rich and gently cleansing
- Vitamin B5 and Pantothenic Acid restores the hair shaft and repairs split ends
Antioxidant rich and free from harsh detergents, silicon and sulfate, this delicate formula gently cleanses your hair to leave it soft and bouncy. There are 16 handpicked ingredients, including active Vegetal Root Juices from the Amazon forest in Brazil and Vitamin B5/ Pantothenic Acid restores the hair shaft and helps to repair split ends, dullness and rough texture. Added Silk extract from Japan enhance your hair's luxurious volume and body.
Step .2
The Iles Formula Conditioner
- Repairs and revitalizes even the most damaged hair
- Silk extract create an immediate voluptuous effect
- Tucuma Palm and Pracaxi Oil rejuvenate hair strands
Suitable for every hair type, the Iles Formula Conditioner is the jewel of the Iles Formula haircare line. You'll see and feel the difference from the very first touch. This paraben free formula instantly transforms damaged, straw­like hair into sumptuous spun ­silk perfection. Put to the test on today's biggest celebrities and on the sets of prestigious directors and photographers, the conditioner repairs and revitalizes even the most damaged hair.
Silk extracts from Japan create an immediate voluptuous effect on the hair while knots and tangles smooth away instantly. Tucuma Palm and Pracaxi Oil extracted from the seeds of the Macrobola Tree are sourced from the Amazon rainforest in Brazil, as well as 16 other proprietary ingredients including Vitamin E and B5 for total hair rejuvenation.
Step .3
The Iles Formula Finishing Serum is the hair's protector against heated tools + UV + Color Fade and humidity.
- Lightweight formula delivers a non-greasy silky finish
- Ceramic-­like molecules reinforce hair fibers strengthening hair and repairing split ends
The Iles Formula finishing serum amplifies the smoothing quotient of hair and delivers a non­ greasy silky finish. This paraben free lightweight formula can be applied to wet or dry hair to protect against humidity, chemical and environmental damages.
Hand­picked hair-nurturing ingredients from Australia, Brazil, Morocco and Japan make up custom ­blended formulas which include Tucuma Seed Butter, Keratin Amino Acids, nut oils of Macadamia, Argan, Hydrolyzed Silk, and Panthenol to nourish the hair without ever weighing it down. Ceramic-like molecules reinforce hair fibers, strengthening hair and repairing split ends. Additional support from Vitamin B5 and UVB filters protect hair (even colored hair) from damaging UV rays. The serum is the finishing tool in Wendy's haircare + repair arsenal.