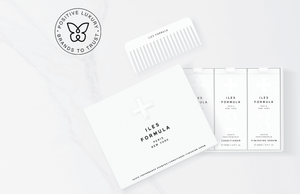 DISCOVER
THE SIGNATURE COLLECTION
The Iles Formula Signature Collection is the raison d'être of our brand.
It is the reason our brand was born.
Our signature Shampoo + Conditioner + Finishing
Serum + Conditioning Distribution Comb are beautifully boxed.
This box presents the perfect introduction for a first time customer
or as a gift for someone special that deserves the best in haircare.

On a professional set, the hair stylist has only one chance to get it right.
ILES FORMULA was born out of the need for a high-performance
professional product that would work fast on any hair texture
and deliver perfectly nurtured results every time.
Celebrity clients and industry experts instantly recognized that
Iles Formula was the product they were long waiting for.
All of our formulas are free from harsh detergents, silicon, parabens and sulphates.
No retouching, no extensions, just one application of the Iles Formula 3 Step System. Treatment took 45 min from beginning to finish delivering this sumptuous result.
THE 3 STEP REPLENISHMENT SYSTEM, CONTAINING OUR 3 SIGNATURE AWARD WINNING FORMULAS, IS DESIGNED FOR OUR RETURNING CUSTOMER.